DVD duplication is copying data from one DVD, Flash memory or hard drive to one or many recordable blank DVD-R media using DVD writers.
Click here for an obligation free quote.
Duplicated DVD discs can store not only video, but audio, data, software, pictures or almost anything that can be digitised.
CD-ROM Services wide range of services make the duplication process as easy as possible for you and do a great job with all your pre-mastering, packaging, disc, cover and inlay printing requirements.
You get the same friendly, helpful service regardless of whether your DVD duplication is just a few discs or thousands!
That's why our customers say:
"I wanted to let you know that I was not only satisfied, but the service exceeded my expectations. I also found you to be very helpful and professional and was especially impressed with your assistance."

Dear Tim, Thanks for your prompt turn-around time. You have been above and beyond mate. It is highly appreciated. Thanks again for your assistance with this order. Have a wonderful day. Warm regards, Ali, Print Post Plus."
Archival Discs
CD-ROM Services now offer the service of transferring large amounts of data to the M-Disc.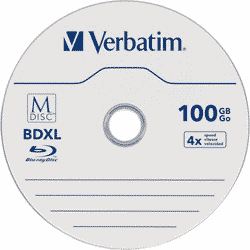 You can send your storage media to CD-ROM Services who can take the contents of your hard drive or thumb drive and transfer the data to one or several M-DISCs for you to store safely and permanently.
Please contact us for costs and further information
CD-ROM Services can also supply a USB external M-DISC burner for clients to use themselves, with or without blank M-DISCs
Click here for a link to an article in PC World describing the M-DISC and how it is the most secure method to store important data. http://www.pcworld.com/article/2933478/m-disc-optical-media-reviewed-your-data-good-for-a-thousand-years.html
"A stress test of the media was performed by the United States Department of Defense, proving that M-Disc DVDs are more durable than conventional DVDs. Conventional DVD-R and BD-R LTH (Low To High) use recording layers of organic dye and separate reflective layers. M-DISC uses a single inorganic recording layer, which is substantially inert to oxygen, but requires a higher-powered laser. Thus, both the M-DISC and inorganic BD-R physically alter the recording layer, burning a permanent hole in the material. Besides physical damage, failure of the reflective layer, followed closely by degradation of the data layer, are the primary failure modes of all optically recordable disks." from Wikipedia.
Recorded discs are readable in conventional drives. Available recording capacities are similar to other optical media from 4.7GB DVD-R to 25GB, 50GB BD-R and 100GB BD-XL.
Convenient location
CD-ROM Services are conveniently located at 66 Berry Street, North Sydney with street parking, and near trains and buses.
Clients are welcome to visit and see our facilities.
Alternatively, send your artwork through the internet, post or courier your disc content and we can arrange delivery Australian wide.
Quality service, quick turnaround
We burn onto premium brand, licensed discs, Taiyo Yuden or Verbatim to ensure that your DVDs will be compatible with all players and that they last a very, very long time. The last thing that you want, is to produce 100s of discs and then have your users unhappy because they do not work.
All production is carried out in-house by industry experts ensuring a quality product with a fast turnaround. DVD duplication can often be completed same day (or a few days), depending on printing processes and volumes required.
As Australia's most experienced and professional media duplicators our in-house resources include:
In-house graphic designers for disc, cover and inlay design
Over 20 reliable robotic DVD duplicators and printers reducing human handling
Several different printing technologies to help you obtain a stunning result
Copiers, cutters and trimmers for in-house cover and inlay printing
A wide selection of cases and packaging always in stock
With CD-ROM Services expert staff and huge capacity to duplicate discs, we have the resources to fully verify every DVD ensuring unmatched quality control.
Save with multiple masters
Multiple Master discounts apply for duplicates of multiple masters where more than 20 copies of each is required.
This means that CD-ROM Services charge for the total number of DVDs duplicated at the same time. For example, if 100 copies of 4 originals were required, we would base our charge on the total number, 400 discs, and charge you just $1.40 per burning (when discs supplied by CD ROM Services).
Additional charges (at $90 per hour) may apply for setting up artwork files for multiple masters. Turnaround time may increase when multiple masters are involved.
DVD replication is the process of stamping DVDs, where the disc is manufactured in a press, after making a glass master, and then coated and printed. It is used for larger quantities, as it is cheaper than duplicating after you have covered your set-up costs, but takes longer.
Select the link below for clear advice on:
Preparing your DVD content
Artwork layout for disc printing
Templates to help you correctly lay it out
Preparing artwork for covers and inlays
Copy protection
Printing and Packaging options
Further DVD Information
About DVDs
DVD duplicated discs can be used to store not only video, but audio, data, software, pictures or almost anything that can be digitised.
DVDs look blue/purple from underneath.
If you are preparing your own DVD video, test your disc in as many computers and players as possible. Some authoring programs do not create completely compatible DVDs.
DVDs will play in any computer fitted with a DVD reader and suitable software. For example if you are running XP, Vista, Windows 7 or Windows 8 you may need to install codecs to run a video. Depending on the type of content, your DVD will play in a home DVD player.
DVD is an abbreviation of Digital Versatile Disc. Originally is was Digital Video Disc, but that was changed as it was felt to be too limiting a description.
A standard DVD disc holds about 4.7 GB of information, which is about 7 CDs.
Dual layer DVD / DVD-DL
Duplication of Dual layer DVD, or DVD-9, is not recommended, as we believe about 5% of DVD players will not play dual layer duplicated video media. We therefore suggest that if you have more than 4.5 GB of contents, rather split it over 2 standard record able DVDs. The cost is about the same as 9 GB recordable DVDs are relatively expensive.
If you have a run of over 200 dual Layer discs, then DVD replication is the answer.
Quality caution
The use of inferior discs will cause some discs not to run on some machines. This is particularly true of duplicated DVDs. Our associate company transfer tapes and old movie films to DVD-R, and produces many thousands of DVD video discs that are played in thousands of home throughout Australia. However less than one in ten thousand may not be compatible with a very old DVD player. This is because we use only Taiyo Yuden and Verbatim media, which are a little more expensive, but well worth the extra cost.
DVD duplication vs replication
There are stories put out by suppliers who do not offer duplication services, claiming that replicated DVDs are superior in compatibility to duplicated DVDs. This may have been true over 10 years ago, because some now very old DVD players were not designed to run duplicated or recordable DVD-R, but all modern DVD players will play duplicated DVDs. The truth is that if a quality recordable disc is used, it will work everywhere and last as long as a properly produced replicated disc.
Although we can produce many thousands of DVD duplicated discs in a few days, for larger quantities DVD replication is usually a more cost effective solution.
Specifications for DVD-Video master discs
Supply your disc as you would like it to play
Check that the DVD you're supplying will work in a variety of DVD players and computer DVD drives.
Avoid -VR and +VR
Although DVD-VR/+VR gives more flexibility when you're creating the DVD, it is less compatible than standard DVD-Video. If you must use DVD-VR/+VR, ensure that the recipients of the disc will be able to play it.
Avoid DVD+R
All of our DVD duplicators record only onto DVD-R. If you supply a DVD+R master disc, it will be copied onto DVD-R discs. While this works most of the time, it is better not to mix the formats.
Use dedicated burning software
We often have trouble copying from masters that were burnt using video editing software. If you are using software to create the DVD, create only an image file. Then use dedicated burning software, such as Nero Burning ROM or Toast to burn the image file to the DVD.
Burn at 2x, 4x or 6x
We often have trouble copying from masters that were burnt at 12x or higher. We have found that DVDs burnt at 4x and 6x are the most reliable.
Alternative video formats
If you are unable to supply a DVD-Video that is ready to duplicate, you can supply video in a number of other formats (additional charges and increased turnaround time will apply):
In order for us to complete your duplication job accurately, unless you supply us with a ready-to-duplicate disc, you must check the master disc before we proceed
Alternative ways of supplying data to us include:
FTP
DropBox
Email
USB drive
SD Card
Using our exclusive 'YesVideo' process, we can convert from VHS, VHS-C, S-VHS, Video-8, Hi-8, Digital-8, Mini-DV, DVCAM and Betamax
If the 'YesVideo' process is not suitable for your needs, we can arrange a custom encoding from a variety of formats including Betacam SP and Digital Betacam